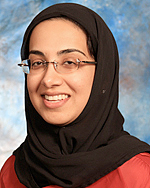 Ravia Bokhari,
M.D., F.A.C.S.
Dr. Bokhari was born and raised in Kingman Arizona. She completed her undergraduate studies at Pitzer College in 2000 with Honors in Biology. She graduated from the University of Arizona College of Medicine in 2005. Dr. Bokhari completed her general surgery training at Phoenix Integrated Surgical Residency in 2010.
Affiliations:
Banner Estrella Medical Center
- Chief of Surgery
- Vice Chief of Staff
Banner Estrella Surgery Center
St. Joseph's Westgate Medical Center
Certifications:
American Board of Surgery
Arizona Medical Board
Certified In Robotic Surgery
Fellow, American College of Surgeons
Fundamentals of Laparoscopic Surgery
Areas Of Expertise:
Minimally Invasive (Laparoscopic)
Robotic Surgery
Gallbladder Disease
Hernia Repairs
Breast Disorders and Cancer
Thyroid & Parathyroid Disorders
Colon Disorders and Cancers
Skin Cancer / Melanoma
Professional Association:
Member, American College of Surgeons
Member, AZ Medical Association
Member, Phoenix Surgical Society
Patient Testimonials:
Sergio B. - "She's one of the best surgeons ever!!"
Rock M. - "Dr Bokhari is an excellent surgeon. Her compassion along with her competency made my very first surgery go as anxious free as possible. I can and do recommend her whole heartily to my family and friends. Top Notch."
David - "I had been having pain for 3 yrs off and on and had been to the hospital a few times and no one was able to find out what was going on. The last time I went to the ER Dr. Bokhari ordered a hida scan that showed that my gallbladder wasn't functioning well so she removed my gallbladder. If it wasn't for her taking that extra step and ordering the hida scan i would probably still be having those episodes. I am truly grateful for Dr. Bokhari and highly recommend her."
Source: Google.com - Google.com Review Link
Source: Healthgrades.com - Healthgrades.com Review Link